Whitetail Institute
Seed & Mineral/Vitamin Supplements
Seed Type: Perennial – a single planting can last up to 5 years
Soil Type Required: Heavy soils that hold moisture such as river bottoms, clay and loam
pH Level Required: 6.5 to 7.5
Sunlight Required: 4 to 6 hours of broken filtered or direct sunlight
Protein Content: Up to 35%
Seeding Rate: 8 lbs per acre
Seeding Depth: 1/8″ or less
Equipment Required: Tillage equipment needed to break and smooth soil
Seed Type: Annual – planting typically lasts 6 to 9 months
Soil Type Required: Virtually anywhere good soil-to-soil contact can be attained
pH Level Required: 5.5 to 7.5
Sunlight Required: 2 to 4 hours of broken, filtered or direct sunlight
Protein Content: Up to 36%
Seeding Rate: 4 lbs – 4,500 sq. ft. based on the amount of ground work done
Seeding Depth: 1/8″ or less
Equipment Required: No tillage equipment required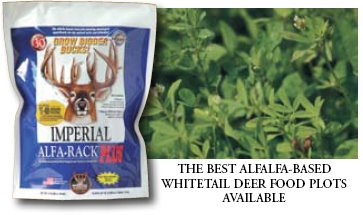 Seed Type: Perennial – a single planting can last up to 5 years
Soil Type Required: Well-drained soils such as hilltops or hillsides
pH Level Required: 6.5 to 7.5
Sunlight Required: 3 to 5 hours of broken, filtered or direct sunlight
Protein Content: Up to 35%
Seeding Rate: 17 lbs per acre
Seeding Depth: 1/8″ or less
Equipment Required: Tillage equipment needed to break and smooth soil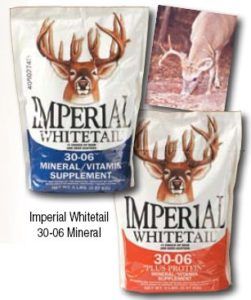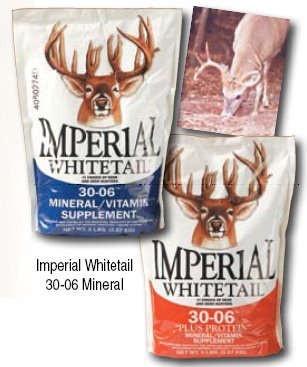 These supplements maximize antler growth and doe lactation.
Powerfully attractive.
Wildlife Seed
Ladino Clover is a long lived perennial and a must have for wildlife food plots.
Lespedeza makes for great wildlife food and cover. Especially good for quail, dove, ducks, rabbits, deer, and livestock.
Spring Wildlife Mix attractive to deer, turkey, quail, and more. the diversity of this mix provides food in spring, summer, fall, and early winter. Contains: 50% soybeans, 20% grain sorghum, 20%German foxtail millet, and 10% sunflowers
Fall Wildlife Mix a diversity of small grains, legumes, and brassicas that give deer and other wildlife the option of selection. Mix contains: 30% Bob Oats, 25% Winter Wheat, 25% Winter Rye, 15% Austrian Winter Peas, 5% Turnips & Rape.
These are just a few of the many options that Weber Seeds, Inc. offers to our customers. Give us a call to find out about any/all of the wildlife products we provide.